The Sandman Will Keep You Awake - The Loop
Play Sound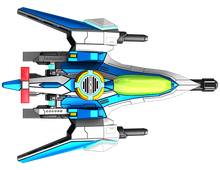 The FV-G27 Enforcer (エンフォーサー Enfōsā) is a vehicle from Ginga Force.
The Enforcer is utilized by Mitsurugi Security Service as the multirole police vehicle for Defense purposes.
Ginga Force
[
]
In Ginga Force, the Enforcer is the player's main ship equipped with basic weaponry for its initial deploy. As a multirole vehicle, it is highly customizable as the player can buy and equip different Main Weapons, Subweapons, Special Weapons and even Engines to adjust the ship's speed.
While the Enforcer is utilized by all the security forces of the MSS on Seven Tier, the player takes control of the ship piloted by Alex Heatburn and Margaret Whitetail, call signed "Hound 1" (ハウンド1 Haundo Uan).
In Chapter 7 the FV-G27 becomes the recurrent enemy due to the pilots defiance against MSS commands. However, the enemy Enforcers are equipped with a configuration that resembles a mixed design of the Eschatos Sub Shot in black color and the Mitsurugi Sword's wings which is unavailable for the player. Apparently, they are equipped with the Uni-Engine Dragon Wing, granting them amazing speeds.
Natsuki Chronicles
[
]
In Natsuki Chronicles, the Enforcer once again takes the role of antagonist in Stage 7 as the player takes control of Natsuki's Garm in an attempt to capture the ship. While any attack to the ship is negated by the Enforcer's shield, the stage objective is to keep the Capture Progress bar from falling off. As a "boss", the Enforcer can use several different weapons at once.
Gallery
[
]
Ginga Force
[
]
Natsuki Chronicles
[
]
See Also
[
]